Treatment time is 40 minutes or 70 minutes.
The current price for 70 minutes is £55.00 and for 40 minutes it is £35.00
Massage is an ancient form of therapy dating back approximately 6000 years. The treatment's purpose is to remove toxins from the body and increase blood flow to all areas. This will enhance well-being and improve cell and tissue maintenance and muscular performance.
Sports and remedial massage involves much deeper tissue techniques than general massage and specific movements will help to release "trapped" muscles. Your sport, occupation or activity may make you vulnerable to injury and Sports massage therapy will assist with rehabilitation.
Tension from sport, occupation or emotional issues will be removed and it is possible that injury will be prevented as a result of this. Equally, recovery from injury will be quicker whether you are an active athlete, dancer, fitness enthusiast or working long hours at a desk or driving extensively.
Sports and remedial massage helps the client listen to warning signals and promotes relaxation.
If no injury is apparent, then a sports and deep tissue massage will keep you in check and help to prevent problems.
Clients may choose a full body treatment which is 70 minutes or to be treated on a specific problem area for 40 or 70 minutes.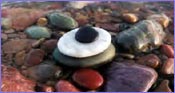 Hot Stone Massage: This rediscovered ancient therapy helps to balance, rejuvenate & promote self-healing.
The hot stones are volcanic, polished stones and therefore retain a high core temperature. The hot stones detoxify the body and help remove muscular restrictions with the aid of the wonderful heat they impart. The result is a truly luxurious and deeply relaxing treatment that works on both the mind and the body.
Hot stone massage is excellent for removing stress and helping to balance the body and is equally fantastic for restricted muscles.
Treatment time is one hour and 25 minutes. The current price for this treatment is £65.00